sh404SEF 3.6.4.1481 - SEF for Joomla 2.5
Developer Anything-Digital Tags SEF Version 3.6.4.1481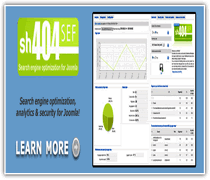 sh404sef is a SEO Joomla Sef extension to rewrite your ugly URL to search engine and user friendly. It removes index.php from website links.
In this version they fixed web analytics code snippet bug. Previously web analytic code was not inserted for visitors.
Reworked rel="prev" and rel="next" head tags
Instanly add global support for canonical URLs (add rel="canonical" HTTP headers)
Remove duplicate URLs, a common problem with Joomla web sites
Create human ear and search engine friendly (SEF) URLs
Control URL re-write mode on a per-application basis
View your Google Analytics dashboard in the Joomla administrative backend to keep a close eye on traffic volume and referral sites
Support for Google News URL format
Get the shortest, most significant urls for your site and your web rankings
quickly and easily add social media buttons to your entire site to allow sharing on Twitter, Facebook, Google+ and Pinterest.
monitor social sharing of your content in the Joomla administrative backend
Adjustable parameters for add-on extensions to customize URL appearance per-extension
Automatically generate tiny URLs (shURLs) for your content (formerly called pageID)
Customize the page title and page description
Automatically emphasize all your article titles with "Heading tags"
Satisfy many of the Google recommendations for search engine optimization with just a few clicks
Test Drive
http://anything-digital.com/sh404sef/seo-analytics-and-security-for-joomla.html
Mirror Servers
http://www30.zippyshare.com/v/79720893/file.html
http://turbobit.net/infringement/sh404sef_3.6.4.1481_rb_n.zip.html
http://bayfiles.com/file/rqpV/QBa62T/sh404sef_3.6.4.1481_rb_n.zip
Read Before You Download - Here is The : Privacy Policy
If you like the post please Share this on social media.